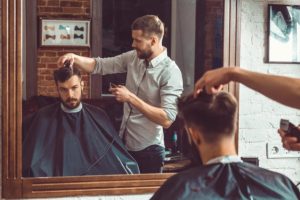 Remember the old days when barbershops mostly used to have quite the shady aura with hardly any ventilation or light as well as an inexplicable smell that hung around? Well, those days are long gone as now, those so-called shops really seem to have become quite state-of-the-art and modern to boot. No filth, grime or any overpowering smells to be found anywhere. You can be sure of that.
Apart from having a real sense of class, these shops even have some of the best grooming products on the market as well as well as other fancy equipment. All your previous complaints about barber shops not being well-equipped in the past have vanished in a flash. On that note. here is a list of 10 of them across the world. : –
Argyle League, Houston
Hands down one of the coolest barber shops out there. Houston is the place to be if you want a prime cut. The overall layout is rather sweet as well.
Baxter Finley, Los Angeles
The Baxter Of California Grooming Line is exactly what these guys are related to. Due to its immense popularity, it has almost become like a hangout joint as much as a barbershop.
Pankhurst, London
Just in case you were wondering, these are the same guys who styled and cut Daniel Craig and Blurs hair as well. If that wasn't enough, their special barber chairs were used by Bentley Motors. Now that's really something.
Dolce & Gabbana, London
Now there's a stylish groomer in London which is part of an Italian Fashion brand. One thing is for sure – the charm it carries is undeniably unique.
Barber At Bourdon House, London
Located in Dunhill which is the flagship brand for luxury goods, this has pretty everything you may desire if you happen to be a person of exquisite taste. Not to mention the sleek fact that you can even have a suit made there.
18th Amendment Barber Shop, Vancouver
Now that's truly a bizarre name if I've heard of one. In case most of you were thinking that all the cool barbershops are mainly in New York, think again! With quite the nifty charm of its own, this barbershop is essentially a tribute to the Prohibition era good looks and styles to boot.
Ludlow Blunt, Brooklyn
Being a British themed shop, it does a smooth job of blending both modern-day craftsmanship and techniques along with a heritage touch clearly making it stand out from the rest.
Ultimately barbers come from a variety of different background all across the board from the most simple to the elite as well. Whether your idea of a perfect evening is a smooth cut throat shave or a stylish haircut at a Stockport barbershop, the point is that if you happen to be an avid traveler as well as a barber enthusiast, then surely your prayers have been answered.
Fire up that Instagram account and phone in a jiffy because in case the list wasn't indicative enough of the fact, these barber shops are truly the real deal out there.