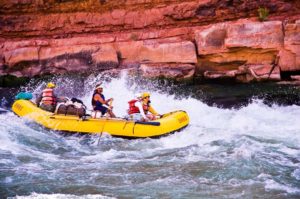 If you are an outdoor person, one of the best vacations you'll ever have is rafting through the Grand Canyon. This is a true adventure where you float down the Colorado River in between the immense walls of one of the world's most beautiful canyons. Often listed as one of America's best adventure vacations, this rafting trip is a fun and exciting experience.
When you travel through the Grand Canyon by raft, you get to experience its splendor slowly. You will see hidden slot canyons, sandy beaches, and abundant wildlife. Planning a river trip can be daunting. Consider these factors when beginning your research.
To begin, there are more than a dozen companies operating whitewater tours through the Canyon. To make it even more complicated, each of these companies offers multiple types of tours and trips. Deciding which company to work with can be a challenge.
First off, you need to understand that not all trips start and end in the same part of the Canyon. You can begin your trip in many different places. For example, you can put in, which means enter the river at Glen Canyon Dam or choose to hike down the Canyon from the South Rim and put in somewhere in the middle of Colorado's run through the Canyon.
Most tour companies will also offer river tours that begin or end at Phantom Ranch. The Ranch is located one vertical mile below the South Rim. The Bright Angel Trail is a 10-mile hike that connects the Ranch to the South Rim. This is a strenuous hike either way.
Another important consideration is the type of boat you'll be on. Tour companies offer motor trips using large pontoon rafts which hold many passengers. There are usually two or more guides on each raft and a pilot who steers the outboard motor.
For the more adventurous, tour companies also offer oar and paddle trips. These river trips use smaller rafts which are non-motorized. An oar boat is operated by a single boatman who paddles with two long oars or a raft that is paddled by the passengers.
Most river trips occur in the spring or summer. It can get hot on the river during the height of summer, but there's always a swimming hole or the river if you need to cool off. Rafting through the Grand Canyon is an experience you'll never forget. Start planning your trip now and hit the river as soon as you can.