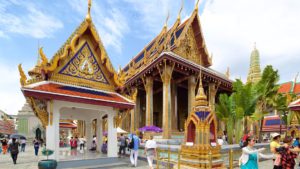 One of the most amazing places that you can go in the world is Thailand.
There are many things to see and do in beautiful Siam as it was called earlier, as in the movie The King and I.
Below you are going to find some of the most notable attractions that you want to see if you are planning a trip to Thailand.
Grand Palace – Located in Bangkok, this is often the first stop in Thailand (see picture).
This spectacular, dazzling building awes many visitors every year with its intricate details and beautiful architecture. It dates back to 1782 and was the home of the kind of Thailand and his royal court for over a hundred years.
This amazing construction is without a doubt Bangkok's best loved landmark. If you are going to visit the palace, make sure that you are dressed appropriately since you may not be allowed to get inside if you are dressed inappropriately.
Wat Arun, or the Temple of Dawn – Also located in Bangkok, this amazing temple is one of the most beautiful places that you can visit in Thailand.
It's one of Thailand's most beautiful pieces of architecture and draws many people to its site every year. Its spire on Chao Phraya River's ranks among the most famous landmarks in Thailand and it's more than 70 meters high.
The spire is beautifully decorated with Chinese porcelain and little colored glass pieces, all delicately placed into very intricate patterns. Even though it's called the Temple of Dawn, it's also very stunning as the sun is setting, especially when the temple's lit up.
Railay Beach – For those who love the beach, Railay Beach, found in the Krabi Province, is one of the must see places in Thailand.
There are no roads that lead to this beach, since it's in walking distance. It provides beautiful beaches filled with white sand, limestone cliffs which soar into the sky, and a lagoon tucked into the cliffs, fed and shaped by the ever changing tides. And it is also famous for its cliffs.
For those who are looking for a place to just get away from it all and enjoy a tropical respite, Railay Beach is the place to go.
Floating Markets – Perhaps one of the most interesting things about Thailand are the floating markets.
These unique Thai attractions were made famous by James Bond movies and they are a sight that many people go to see every day. Accessible by boat, taxi, or tuk-tuk, these amazing floating markets offer many different things for sale, including fresh produce, all sold from small boats.
You will discover that there are many things to see and do in Thailand. The above suggestions are just a small sampling of what Thailand has to offer. The food, the sights, the smells, and the culture are all waiting for you in this amazing country. Make sure that when you book your trip to Thailand you plan to come for a long trip.
This is going to ensure that you have enough time to see and do everything that this country has to offer. We guarantee it isn't going to be your last trip there – you will want to come back again and again.