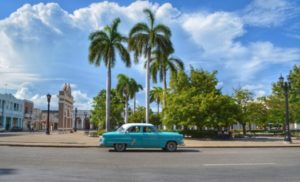 Making the decision to tour Cuba is easy. You might go on a gastronomic tour. Cuban food, which takes Caribbean cuisine and tosses in African and Spanish elements, is considered one of the best comfort foods in the world. And Cuba's creamy desserts and delicious homegrown coffees provide the perfect compliment to its distinctive spices.
Maybe you'll go to enjoy the music. The artists in the country have had an immense impact on jazz and salsa and on the sounds of other countries. You could just sit back and listen to the beat of Latin and Afro-Cuban melodies. Go anywhere – musicians play all day and night in Cuba.
Or, perhaps you'll go to Cuba to scuba dive, snorkel, or swim in its warm, clear, turquoise ocean water and play with the orange starfish and gaze at gorgeous coral reefs and stroll along brilliant, white sand beaches.
Cuba has some of the best beaches in the world. Varadero, located on Cuba's Western end, is just one of them. It's the largest resort in the Caribbean, with over fifty hotels, abundant shops, loads of activities, and lots of entertainment. Or, maybe you'd rather sit by a pool, sip a delicious tropical drink, and indulge in a luxurious spa treatment.
Maybe your favorite excursions include nature. Well, Cuba has that, too. There's the Viñales Valley, where you can hike, climb, explore caves, or bird watch.
Or, maybe you also like history. Visit Habana or Havana, the capital of Cuba, is rich in history and has many amazing historical attractions. In Old Historical Havana or "Habana," you can see buildings constructed during the sixteenth century, during Spanish Colonial Times, and marvel at buildings displaying baroque and neoclassic architecture. If you stay until 9:00 p.m., you can witness the shooting of the Fire of the Cannon, which signals the closing of the city gates, one of the city's oldest traditions.
Perhaps you'll want to see fine, Spanish colonial mansions, churches, and plazas. Then, you'll want to tour Trinidad, a UNESCO World Heritage Site. You can also enjoy the best-tasting food while you dance and party to the amazing sounds of Afro-Cuban, salsa, and, disco music in Trinidad's exciting nightlife.
These are just a few examples of where you can travel to Cuba and what you can enjoy. There are many more destinations in Cuba and so much more to experience when you decide to travel to Cuba and take a Cuba vacation. Contact a Cuban Private Travel Agency for information about excursions and where to stay. Plan your round-trip air flights, private round-trip air flights online, through discount online sites, and directly through airline sites.
One Cuban private travel agency you could contact is "Que Bolaa" Cuba Travel. "Que Bolaa" Cuba Travel treats the Cuban vacationer more like a resident and shows vacationers the sites only Cuban residents know and adore.