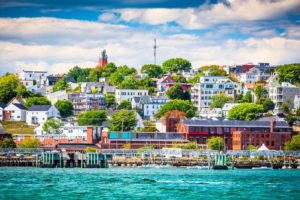 One interesting way to visit the United States is from the Canadian border to Acadia National Park through Portland, Maine. And here we go for a great road trip to New England after visiting Quebec. After a few in Quebec City, you can cross the border to enter to the United States at Stansead (Canadian side) and Derby Line (American side), so you can cross the White Mountains in our itinerary.
Crossing the Canada-US border by car
A first police officer will check your passports, and ask some basic questions like "Where are you from?" Then will come more specific questions like "Do you have any vegetables?" or "Where do you want to go?" before he ends up taking a tour of the vehicle.
Then you may have to park the car further down the parking lot to go to the border office and complete the procedures for entering American soil. You must fill out a document and pay a tax of $8.50 (and not Canadian dollar, so you must obtain it in advance). Otherwise there is the possibility of paying by bank card, which does not seem to be the case for very small posts. This document is stapled to the passport and must be returned to the airport before taking your return flight, preferably to the airline at the time of check-in, otherwise as a last resort at customs.
Maine, from Portland to Acadia National Park
Welcome to New England! To get to your first American stopover in Portland, Maine, you can choose to cross the White Mountains and take the famous "Kangalangus Highway". A perfect route to admire the advance of autumn!
Throughout New England, you will come across outlets. These are a kind of brand villages where you can find the biggest American brands at very competitive prices on a selection of items. For example, at the end of the "Kangalangus Highway" is the Settlers Green, in Conway, New Hampshire. It brings together famous brands like Levi's, Nike, New Balance, J.Crew …
In this state, clothes are not taxed unlike others like Connecticut. In practice, this is where you can do business since most of the items are on sale … But note these are discontinued items, so items not really on top of fashion. If you thought to come back with lots of Nike at good prices, it's a bit missed, the shoes offered are frankly not to all tastes and at prices still high!
New England, 6 states
This road trip is a real discovery of this region well known for the crazy colors it offers in the fall. Think of its beaches, its lighthouses, its lobsters, its pretty houses, its bricks everywhere, its universities … It encompasses 6 states: Maine, Massachusetts, New Hampshire, Vermont, Rhode Island and Connecticut.
Discover Portland, Maine
Before settling down in your first Airbnb in Portland, you can drive to the famous city lighthouse, the oldest still in use in the United States. At 6:00 PM the sun will soon set. The light is ideal, it's perfect for photographing this little wonder. The place is very clean as the officials pay particular attention to Portland waste management and no junk or detritus are kept on site for too long.
The site is open from sunrise to sunset. So be careful with the schedules before you get there, since it's still a 20-minute drive from downtown Portland. From an architectural point of view, downtown Portland resembles many large American cities, except that everything is on a human scale.
You can particularly appreciate the district of the Old Port, with its cobbled streets, its brick buildings and its moored boats which gives Portland a very authentic side.
It is in Portland that you can eat your first American donuts at The Holy Donut, an address found in the New York Times. The donuts there are all excellent, 100% natural, homemade and cooked with Maine potato. There is even a savory version with bacon and cheddar, a delight! Just don't be afraid to queue on Sunday morning.
The specialty of the region is lobster. Take advantage of your time in the city to taste one of his lobster rolls on the Old Port. For those who don't know, this is a kind of lobster sandwich, topped with salad and mayonnaise. It is called "guédille" in Quebec. There on the Old Port, the lobster is fresh, but the price a little less. It takes about $16 for a sandwich with a few pieces of lobster and fries.
Sleeping in Portland, Maine
Have dinner on the road between Portland, Maine and Acadia. One of the curiosities that you absolutely want to discover when going to the USA is to stop at an American dinner to drink coffee and eat pancakes! If you are in the area, we recommend the A1 diner, an old vintage caravan converted into a diner. And what's more, it's pretty photogenic.
Acadia National Park
If it's your first national park in the United States, note that it's one of the only ones on the East Coast. Acadia National Park is a partially protected area located on Mount Desert Island on the Atlantic coast of Maine. The main tourist spots are connected by Loop Road, a circular two-way one-way road.
Entrance to the park is chargeable, approximately $25 per car for 7 days. You can buy your pass from their website or directly from the Visitor Center at the park entrance. Or get it with America the Beautiful Pas, which gives unlimited access to all of the US national parks.