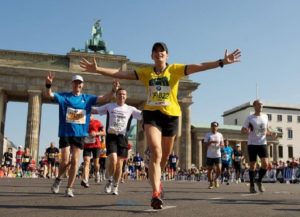 Berlin is a historic city that offers sights that would enthrall any visitor. It is a dream destination for travelers and tourists alike.
Come to think of it, there is a lot of difference between travelers and tourists. A tourist will traditionally book himself or herself in a 5-star hotel, stay for a few days, maybe a week, hire the services of a tour operator and visit the sites in a hired car.
A traveler, on the other hand, has a totally different agenda. The main item on a travelers' itinerary is to soak in the culture and lifestyle, meet (and if possible, live with) the locals, and stay for much more than just a few days and visit the interesting places at a leisurely, unhurried manner.
Berlin is characterized by its warm and friendly people and countless sites that have a historic value which would hold you spellbound.
For those looking for adventure there are many activities, and for the others who wish to enjoy with the locals, there are many places which are ideal and you can spend hours sipping beer and engaging in the lifestyle of the locals.
For an adventure and health freak like me, I think nothing compares to selecting and putting on my best shoes and embarking on a running sightseeing tour of this magnificent city.
There are many running circuits that are bound to keep you engaged for many days and they are so good that often, you may find the urge to repeat some of them again and again.
The running tours in Berlin are also perfect for you if you love to establish a direct contact with its people and culture, and will give you excellent insights that would make your trip more enjoyable.
Combining sightseeing tours while running as a regular workout activity is an attractive option who wish to keep their fitness at its peak while experiencing the magnificent sights and stunning landscapes that Berlin has to offer.
If you are looking for hints where to go on these running tours, here are some of my favorite running circuits in Berlin –
Volkspark Friedrichshain
Volkspark Friedrichshain is a 150 years old park and is a must-go for any runner. It is approximately 3.5 miles circuit and presents the pristine beauty of nature all along the way.
You can also see the infamous "Märchenbrunnen" right at the entrance and has a special magical appeal to its interiors. A perfect playground for all kinds of runners — amateur as well as professional, it is quite near to the Mitte area and can be reached without any difficulty.
Tiergarten
It is a 4 miles trail and an ideal hotspot for runners in Berlin's second largest park. It is also a reminder of the start point and finish line of the annual Berlin Marathon which serves as a huge inspiration for all runners there are many options but the best one, of course, is one between the Brandenburger Tor and the zoo, as it offers many a picturesque site.
Tegeler Forst
This six and a half mile long track runs right across the picturesque Schloss Tegel area to the lovely sights and sounds of the Tegeler Forst, and the Tegeler See. The thing that stands out here is the variety in running as it offers many ups and downs that will excite you as your breathing becomes faster.
This place is very easy to reach using public transportation at the U-Bahn station.